Durex KY Jelly is a popular personal lubricant produced by the Durex brand.
It is made for providing additional lubrication during your sexual activities like intercourse or masturbation.
KY Jelly is water-based, which means it is easily washed off and is compatible with most condoms and sex toys.
Durex KY jelly personal lubricant 50ml is a non-greasy, moist, colorless, and odorless gel. It relieves intercourse discomfort and protects the intimate area from inflammation. It relieves a woman's vaginal dryness. It's also a water-soluble formula that's transparent. As a result, Durex KY jelly personal lubricant 50ml is simple to clean. It doesn't have any contraceptives or spermicides. It's an oil, odor and toxin free solution. you can use it with a condom and a sex toy.IT is also safe for using in your vaginal area, have oral sex, or have anal sex.
Key Benefits KY gel
Below are listed some of the benefits of using Durex KY jelly personal lubricant 50ml:
Gets rid of vaginal dryness.
KY Jelly is a lubricant that can help you improve your natural lubrication.
Durex KY jelly personal lubricant 50ml is a non-greasy, moist, colorless, odorless gel that relieves friction discomfort and protects you from irritation.
Made with gynecological research in mind to augment your natural lubrication.
KY Jelly is a condom-friendly substance.
KY Jelly is water-based, much like your body's natural lubricant, so it's easy to rinse and won't stick around like petroleum jelly.
Consider Durex KY jelly personal lubricant to be the closest thing your body has to natural lubrication.
Stamina and erection hardness are improved.
Boosts vigor and intimacy.
Lost desire is resurrected.
Depression is relieved.
Recharges your batteries.
Efficacy that lasts.
How to use Durex KY jelly personal lubricant?
Follow the directions on the label of Durex KY jelly personal lubricant 50ml or as advised by your doctor.
Directly from the tube, apply the required amount of lubrication to the skin or a condom. If necessary, reapply.
Ingredients used
Water
Glycerin
Gluconolactone
Sodium
Hydroxide
Chlorhexidine
Digluconate
Methylparaben
Hydroxyethylcellulose
Warnings of Ky gel:
If you are allergic to any of the substances used in Durex KY jelly personal lubricant gel 50ml, you should avoid using it. Read the points listed below:
KY Jelly will not protect you from sexually transmitted infections (STIs) or lower your chances of getting pregnant.
Some people may experience skin irritation from ingredients like methylparaben (found in KY Jelly).
If you have any of the following conditions then please discuss with your doctor or pharmacist to see if using KY Jelly is safer for you:
You have any cuts, irritations, sores, or wounds near your genital area.
You are pregnant or nursing a child
You are infected with a sexually transmitted disease (also called STD).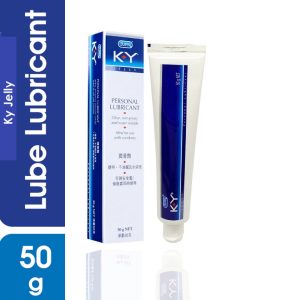 FAQ
Is Durex KY jelly personal lubricant gel toxic?
Personal lubricants come in many varieties but are generally safe when used correctly. One should not ingest Durex KY jelly personal lubricant or allow it to come in contact with one's eyes. If one has accidentally swallowed KY jelly, one should rinse one's mouth with water. ABSOLUTELY AVOID FORCEFUL VOMITING. If the negative health signs don't go away, see a doctor.
Can KY jelly be used daily?
Durex KY jelly is absolutely safe for daily use. Daily use will have no negative effect unless the individual is allergic. This natural-feeling lubricant is also recommended by gynecologists and is fragrance-free.
How long does KY jelly last?
Personal lubricants, such as KY jelly, are frequently sold without an expiration date because their shelf life is believed to be at least 5 years. They're made of water and glycerine and don't spoil easily. They're also treated with a mild antibacterial to avoid infection.
Is Durex lube paraben free?
To help make sex seem naturally smooth, Durex lube is manufactured with 100 percent natural chemicals. It's also pH-balanced, dermatologically tested, and devoid of artificial scents, colors, and parabens.
What happens if I miss a dose?
KY Jelly does not have a daily dose schedule and can be used as needed. If the lubricating properties of KY Jelly are insufficient for your needs, consult your pharmacist or doctor.
What other drugs will affect KY Jelly?
Durex KY jelly personal lubricant gel is unlikely to interfere with medications taken orally. It may, however, modify the impact of other topical treatments used in the same location. All drugs you use including prescription and over the counter medications, vitamins, and herbal supplements you should be disclosed to each of your health care providers.