Himalaya Confido 60 Tablets in Bangladesh
Himalaya Confido 60 Tablets are supplements that help men maintain their testosterone levels and improve their sexual function. It may also assist to improve your libido, promote appropriate reproductive organ function, and help to strengthen penile tissue. In addition,  widening the blood vessels in the penile area may help to deliver strength and stamina to the body as well as increase blood circulation to the reproductive organ.
It is an Ayurvedic formulation used to treat sexual dysfunction in men by increasing sperm count and hormonal levels.
It contains Kapikachhu, an Ayurvedic herb that has been shown to boost libido and general penile function. It also contains Gokshura, a popular herb that is known to act as an aphrodisiac. It stimulates sex desire and increases sperm count. Due to its role in strengthening the penile tissue and increasing blood flow to the organ, it is also thought to be helpful in the treatment of erectile dysfunction (impotence).
To get the best Himalaya Confido 60 Tablets price in bd Pordeshi is here to help you! Please go through the article to have a broader knowledge of the product.
Key benefits:
Himalaya Confido 60 Tables has myriad benefits. Some of them have been pointed out below:
It's been known to aid in the treatment of male sexual dysfunction.
Increases libido and sperm count.
It aids in the strengthening of the penile tissue.
Vasodilation improves blood flow to the reproductive organ.
It works as a natural aphrodisiac.
It's possible that it'll aid with erectile dysfunction therapy (impotence).
Helps to maintain a hard erection long enough for sexual intercourse by increasing testosterone levels.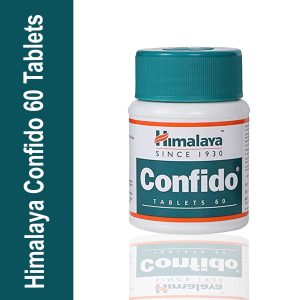 Buy Now
Ingredients:
1. Extracts
Vriddhadaru (Argyreia speciosa): 38 mg
Gokshura (Tribulus terrestris): 38 mg
Jeevanti (Leptadenia reticulata): 38 mg
Shaileyam (Parmelia perlata): 20 mg
2. Powders
Ashvagandha (Withania somnifera): 78 mg
Kokilaksha (Asteracantha longifolia): 38 mg
Vanya kahu (Lactuca serriola): 20 mg
Kapikachhu (Mucuna pruriens): 20 mg
Svarnavanga: 20 mg
Directions and Caution:
Take Himalaya Confido 60 tablets as directed by the physician. In some cases, one tablet twice a day preferably after meals is recommended to improve your sex drive and sexual function.
When used as directed by your doctor, the pill is known to have no negative side effects. As a result, always follow your doctor's instructions. Keep it out of the reach of children and store it away from the sun in a cool, dry area. If you have any adverse effects or symptoms, contact your doctor right once.
DO NOT TAKE Himalaya Confido 60 Tables IF YOU ARE ALLERGIC TO ANY OF THE INGREDIENTS MENTIONED ABOVE.
Quick tips for Himalaya Confido Tablet:
Along with the pill, eat a well-balanced diet rich in vitamins and minerals to help you improve your overall sexual performance.
To help you remember to take your medicine, take it at the same time every day.
To receive the best benefit from Himalaya Confido 60 Tables, strictly follow your doctor's recommendations.
If you're taking any other medications, tell your doctor since they may interact with or be impacted by this one.
Do not use this drug if you are allergic to this tablet or any of its components.
Before using the pill, read the label carefully and do not exceed the suggested dosage.
If you have any negative effects or allergic reactions as a result of taking Himalaya Confido, always see your doctor.
If you forget to take a dosage, do so as soon as you recall.
If your next dosage is approaching, skip the dose you missed and take your next dose at the regular time.
FAQ
What is Confido tablets used for?
Confido Tablet is used to treat erectile dysfunction (impotency) in males by boosting sperm count and testosterone levels. It also gives the body strength and stamina, which increases sexual desire.
Can we use Himalaya Confido daily?
For as long as the doctor thinks it's required, the tablets should be taken same time every day.
How quickly does Confido work?
Himalaya Confido takes two weeks to show results. When used for a short length of time, such as 4-6 weeks, there have been no recorded side effects. Overdosing or usage, on the other hand, might cause modest issues.
Does Confido really work?
The medication is known to boost sperm count and testosterone levels, which aids in the treatment of erectile dysfunction. It's also renowned for treating anxiety problems in relation to sexual performance. It promotes normal ejaculation and combats impotence.
Can we take Confido empty stomach?
For the first month, one can take three pills twice daily on an empty stomach. After that, one tablet twice daily. Don't eat too spicy meals. BUT, DOCTOR'S INSTRUCTIONS ARE RECOMMENDED TO BE FOLLOWED.