Durex Play Vibrating Rings Price in Bangladesh
This play vibration ring is waterproof. Durex Play Vibrating Rings in Bangladesh, vibration rings will increase sex power and pleasure for men as well as women. It will provide up to 20 minutes of pulsating sensation for both you and your partner during sex time. Moreover, the product is battery operated, so that you can change the battery anytime. It can be used with pleasure lubricant gels.

Durex Play Vibrations is all about having fun! Designed for single use, this Play vibrating ring is designed to give targeted vibration during sex. Easy to turn on and off with a simple switch, the battery will last up to about 20 minutes of quivering pleasure. For you and your partner's enjoyment!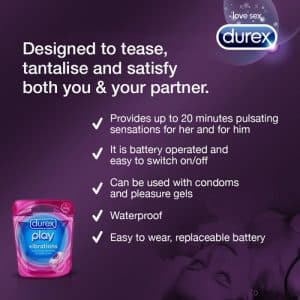 You want to play, but are you in for the long game?
Then do it right with Durex Play's penis ring. This vibrating ring for men is made from stretchy material that hugs your sensitive bits and stays put no matter what – even if you're sleeping.
Made from super-stretchy material so it fits closely to your skin, this penis ring can be used with or without a condom (but don't sleep in one!). With lube or pleasure gel – whatever's your pleasure! Durable up to 6 times each, these sex toys will last as long as you like. It's time to get down and dirty today!
How to Use Durex Play Vibrating Rings in Bangladesh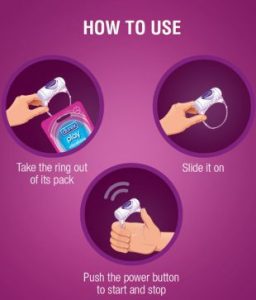 Whoever thought hands could do the trick now has an extra option.
-The Durex Play Vibrating Ring is a comfortable, disposable, vibrating ring that secures around your penis and provides powerful stimulation of the wearer's best friend at the key moments of intimacy.
–To use simply:
1) Peel off the blister of your package and take out a ring
2) Take out from
3) Slide it onto the base of your penis
4) turn on its vibration by tapping Durex button
5) Let it all happen
6). Easy right?!
visit here Durex official site in Malaysia