Himalaya Evecare Capsules 30 in Bangladesh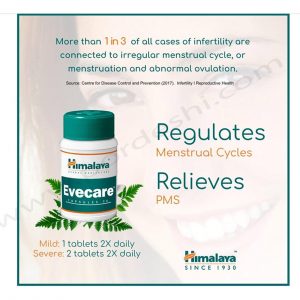 Himalaya Evecare Capsule is a traditional medicine that helps to alleviate the symptoms of PMS, including severe pain and discomfort during menstrual cycles. It has been shown effective in supporting female reproductive health by preventing infertility caused by issues such as an impaired hormonal balance or inappropriate implantation process for conception following embryo transfer procedure (IVF).
The key ingredients include Ashoka tree extractions known for their anti-inflammatory properties; Shatavari herb with calcium-rich compounds which strengthens bones while decreasing risk factors associated with cholesterol-related diseases like Heart disease/ Stroke etc.; Vasaka mushroom extracts possess antioxidant activity capable of fighting off free radicals causing cell damage at higher concentrations.
Evecare is the best solution for all of your menstrual needs. It repairs endometrium, regularizes endogenous hormonal secretion, and corrects cyclical rhythms while relieving symptoms like cramping or heavy bleeding! Evecare also stops hemorrhaging quickly in case you need it during an emergency situation when there isn't enough time to reach a healthcare facility with supplies on hand.
Evecare is a great option for managing pain during menstruation or menstrual disorders. The antispasmodic and anti-inflammatory properties help alleviate the discomfort, making this product an essential part of your feminine hygiene routine.
Evecare is a natural supplement that can be taken to help with anemia and uterine disorders. It stimulates the immune system, which in turn increases hemoglobin levels in your blood for better health overall. Hormones known as gonadotropins regulate follicle maturation, ovulation, and normalizing estrogen to progesterone levels. Gonadotropin's important in regulating the system that governs growth or reproductive function for both females & males – this includes sexual development too! Evecare improves fertility by improving these hormones with a Women's Health Care Specialist.
Ingredients Used in Himalaya Evecare Capsules
Ashoka
Ashoka flowers, also known as Indian jasmine and queen of the meenakari flower tribe are a natural source for phytoestrogens which balance hormones. Studies have shown it to be beneficial in protecting breast cells from oxidative stress.*
The Ashokan herb can help boost energy levels while having powerful anti-oxidant effects on human health throughout its lifecycle – especially during our reproductive years.
Lodhra
Lodhra has been known to help balance estrogen and progesterone levels, reducing the production of testosterone in women. It also helps protect ovarian cells from cancerous growths by normalizing reproductive hormones like FSH and LH with regular use over time
The information above is only a simplified version of what Lodhran can do for your body!
Guduchi
Guduchi is widely used in Ayurveda as a rejuvenating herb that has powerful immunomodulatory and anti-oxidant properties. It can clear blockages from the reproductive system.
Punarnava
Punarnava, or "that which renews" in Sanskrit is an ancient herb that contains compounds to rejuvenate the body. It can help prevent fluid retention and has properties for both kidney health as well as regulating urine flow through our bodies!
Shatavari
Shatavari is a famous ayurvedic herb known for its fertility-supporting properties. The word Shatavari literally translates to "she who has a hundred spouses" alluding to the ability of sheathing vitality and fertility it imparts on those in possession, which can be attributed to phytoestrogens found within this plant that nourishes while also tonifying female reproductive organs.
Aloe Vera
Aloe vera is a medicinal plant with various health benefits. It has been used for centuries to soothe and heal the body, including soothing inflammation in the uterus or ovaries.
Chandana
The Sandalwood tree's fragrant bark has a calming effect on the body. It also relieves pain and inflammation, cools your skin in hot weather temperatures while hydrating it at night time to keep you feeling refreshed all day long!
Triphala
The ancient Indian patent of the famed "male health formula" is Amalaki, Haritaki, and Vibhithi. These ayurvedic herbs are known for their ability to cleanse and detoxify any part of your body while laying down a strong foundation that will help with optimal reproductive system cleansing as well!
Most asked questions about Himalaya Evecare Capsules
What is the use of Himalaya Evecare Capsules?
Himalaya Evecare Capsules are used to support women's reproductive health by helping to regulate menstrual cycles, alleviate menstrual disorders, and provide relief from symptoms such as menstrual pain and irregular bleeding.
How do Himalaya Evecare Capsules work?
Himalaya Evecare Capsules work by balancing hormone levels, improving uterine health, and reducing inflammation, thereby supporting the normal functioning of the female reproductive system and helping to manage menstrual disorders and related symptoms.
Is Evecare good for fertility?
Evecare may be beneficial for fertility as it supports reproductive health, balances hormones, and improves the condition of the uterus, potentially aiding fertility-related concerns. However, individual results may vary, and consulting a healthcare professional is recommended.
What are the advantages of Evecare?
Supports menstrual health: It helps regulate menstrual cycles and eases discomfort during periods.

Balances hormones: Evecare helps normalise hormone levels in women.

Improves uterine health: It enhances the condition of the uterus, promoting overall reproductive health.

Aids in fertility: By supporting reproductive health, it may potentially assist with fertility concerns.

Manages menstrual disorders: Evecare can help alleviate irregular bleeding and menstrual disorders.

Natural ingredients: The capsules contain herbal extracts known for their beneficial effects on women's health.

No reported side effects: It is generally considered safe and well-tolerated when used as directed.
How do you use Evecare?
General: Use prescribed amounts.

Before or After Meal: Before meal.

Single Maximum Dose: 10 ml.

Dosage Form: Syrup.

Dosage Route: Oral.

Frequency: BID (twice daily)

Course Duration: 10 weeks.
When should I take Himalaya Evecare?
For best results, take Himalaya Evecare capsules as directed by the packaging or as recommended by a healthcare professional. It is typically taken after meals with water.
How many Capsules are in Evecare?
There are 30 capsules in one evecare bottle.
Are Himalaya Evecare Capsules safe for long-term use?
Himalaya Evecare Capsules are generally considered safe for long-term use when taken as recommended. However, consult a healthcare professional for personalised advice.
Can children use this product ?
Himalaya Evecare Capsules are not recommended for use by children
Use Directions
Take 1-2 Capsules twice a day or Consult your physician to find the dosage that best suits you.
Side Effects Himalaya Evecare Capsules
There will be no Side Effects if you use Himalaya Evecare as directed by your doctor.
warning
Read the label carefully before using it.
keep away from children.
if you are experiencing uncomfortable using this product stop using it and talk to your doctor.