Buy Kirkland Signature Vitamin C 1000mg 500 Tablets Online in Bangladesh
Description
Kirkland Signature Vitamin C is the highest potency, a nutritional food supplement that can be taken at any time of day. It contains not only vitamin c but also bioflavonoids and rosehips which possibly help with absorption rates!
The Kirkland signature vitamins are made out of whole foods like citrus fruits or berries in order to give you the most effective form possible for your body's needs.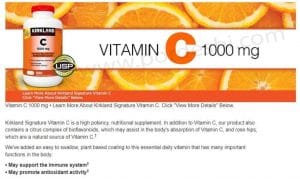 Vitamin C is a powerful antioxidant that supports the immune system and helps fight off diseases, but it has less effect when taken in tablet or capsule form since these delivery methods don't allow for efficient circulation. Vitamin C must be consumed daily because not enough can be stored by your body from fruit juice alone – about 100 milligrams max per day unless you're also taking supplements with 40% Chelated minerals which greatly increase how efficiently this vitamin will work!
We all know that vitamin C is vital, but did you also know it can do more than just keep us healthy and strong? It seems this essential nutrient has been found in multiple supporting roles for keeping people feeling their best.
In addition to acting as an antioxidant, Vitamin C may also help support the immune system. This makes it a great supplement for people with compromised immunity or infection-causing bacteria in their microbiome!
The best way to protect your immune system is by making sure you're taking care of it. Adequate sleep and healthy eating can go a long way in fighting off illness while staying active will keep the energy levels high so that we are better prepared for any challenge life throws our way! To get the best result from Kirkland Signature Vitamin C 1000mg do regular exercise and sleep for a standard amount of time.
A key component in the body, Vitamin C is required for many important functions. For example, it's required for collagen synthesis and supports connective tissue health which may include teeth, gums, or bone – all things you want to keep healthy! So even if Vitamin C doesn't directly help with dental problems like gum disease (which has many other causes), its work indirectly benefits us by keeping those tissues strong so they won't break down easily.
It is hard to get the same amount of Vitamin C in your body as one Kirkland Signature 1000 mg tablet, but you would have to eat over 8 cups or 10 cups of raw fruit and vegetables.  But Kirkland Signature has the Nutrition so people can get it easily.
FEATURES:
💊 High Potency: Contains 1000mg of Vitamin C per serving, plus a citrus complex of bioflavonoids and rose hips – a natural source of Vitamin C.
🌿 Natural Ingredients: No artificial colors, flavors, or preservatives; gluten-free, yeast-free, and soy-free.
✅ USP Verified: Quality tested and approved by the U.S. Pharmacopeia.
SPECIFICATIONS:
– Package weight: 1 pound
– Package dimension: 6″L x 5″W x 4″H
– Country of origin: United States
HOW IT WORKS:
Take 1 tablet daily with a meal or as directed by your healthcare professional.
FAQ:
Q: How many tablets are in a bottle?
A: 500 tablets per bottle.
Q: Is this product gluten-free?
A: Yes, this product is gluten-free, yeast-free, and soy-free.
Q: Is this product made in the USA?
A: Yes, this product is made in the USA.
Use Directions
For adults take one tablet daily with a meal. Or as recommended by a doctor.
Warning
If you're pregnant, nursing, or taking any medication consult your doctor before taking this supplement.
If Experiencing any reactions or allergies while taking this tablet discontinue taking these tablets and talk to your doctor.