Information about Volini Pain Relief Gel
If you  are trying to find gels for your pain then there are so many in markets nowadays and Volini is one of them. Its so tough to find the best and suitable gel for you pain and body too. Volini Pain Relief Gel is an effective pain relief gel. It contains well amount of useful ingredients such as menthol, diclofenac,methyl salicylates and linseed oil. It provides effective relief from backaches, knee pains and shoulder pains. It gets absorbed easily, providing long lasting relief. Diclofenac diethylamine, methyl salicylate, menthol, linseed oil are so important for you pain and helps in relaxing muscle stiffness and providing long lasting relief from muscle pain.
Directions for use should be written in plain English. you will find a picture of the product on the packaging. Instructions should be easy to understand.
This product should be used on intact skin surfaces and not on wounds or open injuries. While you are using it you should be aware of this medicine not come close to eyes which can damage very badly. This product should be kept store in a cool and dry location.
Volini Gel is a pain reliever that helps relieve muscles. It gives a holistic solution to ache and pain. It works on deeper layers of the body to help relieve backache, neck and shoulder pain, and knee pain.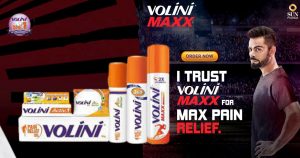 All type of Volini and the size you will find here, at the best price of range in Bangladesh.
Benefits of volini cream
Volini Gel effectively works to relieve your pain caused by muscle spasms. It is used to treat neck, knee and back pain. It contains menthol that dilates the veins that increase blood flow to the affected area. This helps create an analgesic effect and allow faster healing of the wound.
Volini is an effective painkiller. It helps reduce swelling and muscle stiffness that causes musculoskeletal problems. It also works quickly to provide instant pain relief.
How to Use
Volini should be applied gently to the affected area three to four time per day. It shouldn't be used on open wounds, or injuries.
Safety information :
This product is used for external application only. Keep it away from children. Don't apply this product to any open wound or injury. Never put it in your eyes. Make sure to tight the cap in every use.

Side effects

Side effects include high blood pressure, mild cold, burning sensation at the site, rash, itching, dermatitis, volinia gel, anaphylactic reactions, pruritus, and rashes etc.

Allergy

Do not use Volini Gel on people who have an allergy to any of the ingredients in the gel. Seek medical attention if someone experiences any allergic reaction after using the gel.

Pregnancy

Volini pain relief gel is not safe to use during pregnancy. Seek advice from your doctor before the usage of this medication.

Breastfeeding

Volini pain relief Gel should be used only when prescribed by your doctor. Topical application to nipples may cause diarrhea in infants.

External use only

Volini pain relief Gel should be used externally only. Do not apply to the eyes, mouth, and open wounds.

Skin allergies

Use Volini pain relief gel with caution if you have an open wound or blister. This medication could slow down your healing process and make you feel more pain.

Asthma

Volini pain relief gel is not recommended for people who suffer from asthma. People who have asthma should avoid taking Volini gel for long periods of time.

Missed Dose

Volini Gel is used to treat pain. It is applied only when you need it. You're not likely to miss a dose.

Overdose

Do not use more quantities of volin gel as it may cause severe side effects. Discuss with your doctor immediately if you see any symptoms such as itching, swelling, rash or redness at the place of application.

Storage of Volini Gel

Before and after using Medicines you should keep it in a cool place away from heat and direct sunlight. They should not be frozen. They should not be flushed down toilets. They should be stored out of reach of children and pets.
FAQ
No 1: Can I use Volini on my open cuts?
Ans: Volini pain relief gel is a gel-like substance that helps heal wounds. It doesn't cause any side effects when applied directly to intact skin surfaces. However if you use it on open cuts or abrasions, wash the affected area thoroughly with water and consult your doctor if it continues to bother you.
No 2: Do I have to get prescription to buy it?
Ans: You can buy Volini Gel without a prescription.
No 3: How much it is cost to buy one?
Ans: The price of Volini pain relief gel depends on the size of the tube.
No 4: How many ways I can use the Volini Gel?
Ans: Volini gel spray is used for pain relief, it is applied to areas of the body that have muscle pain, sprained or cramp.
No 5: How long do i have to use it to get better?
Ans: This gel should provide immediate relief on the surface, and offer deep relief within 1-7 days of consistent usage.
No 6: Take to show effect
Volini Gel is an effective drug that works quickly. It affects the brain within 30 minutes. Volini spray is a non-prescription medicine that relieves pain quickly. You should be seeing some results within 24 hours of using this product.
No 7: Can my 6 years old child use it?
Ans: Volini is safe for children over 8 years old. Children should be supervised when using Volini.