Durex Play Vibrating Ring and penis ring
Durex play vibrating rings are silicone-based vibrator rings that provide couples with sensuous enjoyment. The primary function of the Durex vibrator ring is to activate hot zones between couples. Sex may appear to be the finest win-win game for couples at first, but as time passes, it becomes tedious. However, boredom may be solved by playing with new items, such as Durex vibrator rings, throughout the lovemaking session. Couples may discover the maximum pleasure in daily ordinary sexuality with these Durex vibration rings. Durex vibrating rings are famous for their all-exciting tickling delight and amazing feeling; they vibrate at certain points to generate titillating stimulation. Here on Pordeshi, we have varieties of vibrating ring brands for the best price!
Why use Durex play vibrating ring?
The Durex Play Vibrating ring is intended to increase the sensation of tickling in order to increase the chemistry between couples. These rings were designed to combat boredom in bed caused by commonplace lovemaking and the feeling of "nothing more to make it interesting." Also, when a couple actively begins their sexual lives, it is at this point that they begin to explore a lot of new territory for themselves. In these situations, Durex vibrator rings come in handy.
Benefits of using Durex play vibrating Ring:
Improves the love-making experience between two people.
It has a powerful and quiet vibrating ring that can provide a pulsing sensation for up to 20 minutes.
Fully waterproof and made with skin-friendly materials. As a result, couples may enjoy their sex while bathing.
It's possible to use it with or without condoms.
Lubricants can enhance the sexual experience even further.
Vibrating rings can be used with pleasure gels or comfort gels to improve the quality of feeling.
How does Durex play vibrating ring work?
On the Durex play vibrator ring, there is an on/off switch. When you turn on the switch, your ecstasy will increase. The Durex play ring's vibrator will vibrate, and the vibration will be conveyed to the silicone ring. The pleasure is spread out on the male genitalia when it is worn.
Durex vibrator vibrations enable to effectively stimulate both genitals during intercourse. The vibrator ring's pleasant vibrations stretch out and excite the pair to have several orgasms.
Who can use Durex play vibrating ring?
Newly married couples.
Couples that feel bored.
Couples that wish to explore new and exciting ways to add fun.
Men with erectile dysfunction.
In other words, anyone wishing to have a better sexual experience must try out the Durex play vibrating ring!  It is very easy to use a vibration ring and also best Durex Play ring price in Bangladesh can only be found on Pordeshi!
How long does Durex play vibrating ring last?
The Durex Play Vibrating ring is set to last 20 minutes. The vibrator's battery is designed to endure for at least 20 minutes. The vibrator ring should be used for no more than 5 minutes at a time. This will ensure that your natural lovemaking style is not harmed in any manner.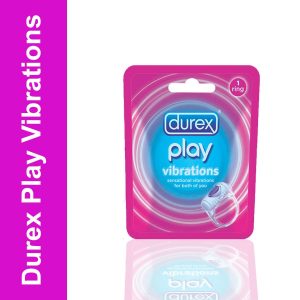 How to use Durex play vibrating ring?
Take out the Durex play vibrating ring from the package.
To place the ring on the male genital, stretch the bottom half/elastic section a little.
Place it comfortably and, if possible, quickly slide your fingertips over the on/off button.
Wear a condom on top of it if necessary.
The vibrator may be turned on or off with the simple on/off button.
Experiment with different placements and locations to produce distinct experiences.
Hazards and Cautions:
Durex play vibrator ring is intended for one-time usage only. Please dispose of it in a secure manner, apart from your domestic garbage.
The product is for adults only.
It is not a contraceptive.
Another penis vibrating ring