Selsun Blue Pro Extra Moisturizing Anti Dandruff Shampoo
If your itchy, dry scalp and hair need moisture, then choose Selsun Blue Pro Extra Moisturizing Anti Dandruff Shampoo with aloe. It's tough on scalp conditions like you'd expect from Selenium Blue with the added benefit of Aloe Vera to moisturize dry hair Selenium sulfide is an effective hair treatment for dandruff. It helps prevent and eliminate itchy scalps and visible flakes associated with this condition. Directions for use: Shake well before using. If your hair is wet, massage the shampoo into your scalp, then rinse If you want to repeat this sentence To get the most out of your treatment, use it at least twice a week. About Selsun: Selsun Blue Pro Extra Moisturizing is the expert in scalp care, offering high-quality products that are tough on dandruff and great for hair to keep you feeling confident, poised and in charge. Selenium Blue helps control dandruff by powerfully relieving symptoms such as flaking and itching. Say goodbye to flakes and get rid of your dandruff with Selenium Blue!
Key Benefits of Selsun Blue Pro Extra Moisturizing Anti Dandruff Shampoo
It can fight dandruff & control recurrence. With Selenium Sulfide to assist control dandruff flaking and itching. Superior Moisturizing for Soft & Manageable Hair. By extracting of natural French Honey to revive hair and scalp hydration for durable moisturization. Selsun Blue Pro Extra Moisturizing Added with 3 forms of conditioning ingredients to repair dry & damaged hair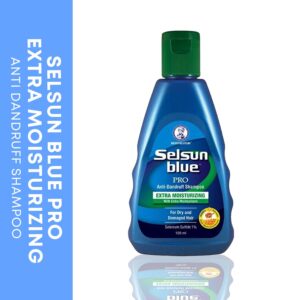 Important information:
Safety Information
For external use only. Ask a doctor before use if you have: Seborrheic dermatitis in areas aside from the scalp. When using this product: Avoid contact with eyes. If contact occurs, rinse eyes thoroughly with water. For color-treated or permed hair, rinse thoroughly. Stop use and ask a doctor if: Condition worsens or doesn't improve after regular use of this product as directed. Keep out of reach of kids. If swallowed, get medical help or contact a Poison center instantly.
Directions
For best results, use a minimum of twice every week or as directed by a doctor. Shake it well, then rinse thoroughly.
Legal Disclaimer
Statements regarding dietary dietary supplements have not been evaluated by way of the FDA and are not supposed to diagnose, treat, treatment, or prevent any disease or health circumstance.
For Tough Dandruff Symptoms
With Selsun Blue Maximum Strength shampoos, you'll be tough on dandruff.
Selsun Blue Medicated, Selsun Blue Moisturizing and Selsun Blue 2-in-1 Maximum Strength Anti-dandruff Shampoo and Conditioner help prevent and eliminate itchy scalp & visible flakes related to dandruff.
Daily Dandruff Control
Selsun Blue targeted dandruff control shampoo is gentle sufficient for each day use.
Selsun Blue Full & Thick, Selsun Blue 3-in-1 and Selsun Blue Itchy Dry Scalp anti-dandruff shampoos lather quickly to assist eliminate itchy scalp and visual flak sand itch related to dandruff.
Healthy Looking Hair a day
Selsun Blue Naturals is formulated with 8 intensive moisturizers, botanicals and vitamins B5 & E to push healthy looking hair, plus the targeted dandruff control you expect from Selsun Blue.
Selsun Blue Naturals is gentle enough for daily use to assist prevent and eliminate itchy scalp and visual flakes related to dandruff.
Targeted Control and Relief
Dandruff can't be cured but dandruff symptoms, like flaking and itching, are often relieved with specialized antidandruff shampoos like Selsun Blue
Works on Any Hair Type
Selsun Blue dandruff shampoos are hard on dandruff, with several sorts to healthy exceptional hair types.
FAQ
01. I have been using Selsun Blue Pro Extra Moisturizing for per week with no results. Did it take longer than that for every body?

Ans: sure, selsun blue pro extra moisturizing took about 30 days to absolutely clear till four weeks. Another thing is you cannot use the other products until it clears up.

02. Am I able to use combine conditioner

Ans: I've used other conditioner and it worked excellent.

03. what's the difference between the medicated and therefore the selsun blue pro extra moisturizing with aloe products?? they give the impression of being to possess the identical ingredients to me.

Ans: Moisturizing contains silicone, whereas medicated doesn't. hunt the results of silicones on hair to work out if that is what you would like.

04. can women use it?

Ans: Yes, women can use selsun blue pro extra moisturizing.

Ans: Yes, it does. it's a really refreshing tingle. It appears to re-act more so if your scalp is sore or maybe sensitive.