Buy I Can One Step Pregnancy Test Kit at the Lowest Price in Bangladesh
The I Can One Step Pregnancy Test Kit has been designed to help you find out if you're pregnant in minutes. It does this through a simple and comfortable at-home testing experience, which means no more visiting doctors' offices or having unnecessary internet visits!
Getting pregnant is such a thrill! It's not just good news, it's great. And we want to deliver that feeling of excitement with the pregnancy test kit–from your home in minutes too!
The I Can One Step Pregnancy Test Kit is a fast, simple, and accurate way to know if you're pregnant. It's the perfect present for any expecting mother who wants peace of mind when it comes down to roost!
The I Can One Step Pregnancy Test Kit is a great way for people who are trying to get pregnant or already know they're expecting. It's easy and only takes five minutes from beginning the process until you have confirmation that your urine contains human chorionic gonadotropin hormone (pregnancy hormones). The results will give an estimation as well so don't wait too long before getting tested! The innovative pregnancy test kit, i-Can has been designed to help women learn if they're pregnant with 99% accuracy on the day of their missed period or later.
Learn how to use the I Can One Step Pregnancy Test Kit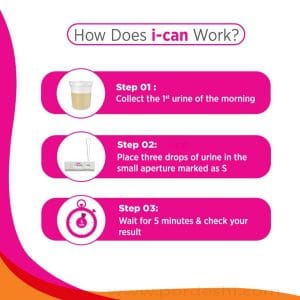 You'll have one test device and a disposable dropper. To get the best result you need to collect your first urine(in the morning while waking up) of the day.
To-Do The Test
You need a dry and clean container to collect the morning first urine. Because it has a high level of HCG. collect the midstream urine sample.
Place three drops of urine in the small space in the kit (where this is marked).
 When you add the next drop of urine to your test strip, make sure that it fully absorbs before adding more.
After you've left the kit for 5 minutes, check to see if there are any changes in color or appearance. Otherwise, wait for at least another 10 before reading your results!
See The Result
If you see One line appears at C: this means you are not pregnant.
If you see two lines at C: and T: it means positive. Congratulations you're pregnant.
No lines appear! If the test cannot be done correctly, Please do the test again with a new kit.