Buy Indian Nicotex anti-nicotine chewing gum mint 2gm  in Bangladesh
Nicotex is an innovative nicotine gum that helps you quit smoking with the power of Nicotine Replacement Therapy (NRT). A 12-week therapy program, Nicotine replacement products can be taken during your daily routine for a safe and satisfying way to live without dependence on cigarettes.
How does Nicotex Work?
Nicotex delivers nicotine in the form that you would get from cigarettes, but at a reduced amount than cigarettes. It allows your body to adapt to having less nicotine until you no longer require it, allowing you to quit smoking easily.
Nicotex is a blend of ingredients that has been developed to satisfy the particular taste expectations of Indians. Nicotex comes in Classic Fresh Mint, Mint-Plus, Cinnamon, and Paan varieties to help mask the strong flavor of nicotine.
Gum Is Used For What?
Nicotine gum may be a great way to help you quit chewing tobacco. You should chew the gum slowly and intermittently until it tastes peppery or flavored, then park your mouth while administering nicotine liquid through ingestion in order for absorption to happen at its strongest point of efficacy (between cheek-gum).
Nicotine Gums are not meant as an alternative vice but rather supplementary support when quitting traditional cigarettes; they work best if chewed SLOWLY with intermittent pauses between bites so that maximum efficiency can take place throughout 30 minutes worth – up until there's nothing left but flavors dissipating
How Many Gums should I Use?
The 2mg Nicotex Gum is recommended for individuals who smoke no more than 20 cigarettes a day.
Follow the 12-week plan below. Please study the package insert before using it.
How to Use Nicotex anti-nicotine Gum?
Chewing gum is a staple in most people's lives, and for good reason. It has been shown time and again as an effective tool to keep your mouth healthy by reducing dryness or inflammation when used consistently with food at least once every day! However, there are some things you should be aware of before chewing any type:
The method demonstrated below will help maximize benefits from this tasty treat while minimizing potential side-effects if applied correctly – consider yourself warned though because these steps aren't always easy 😉
The method of chewing the gum is not the same as that of ordinary chewing gum. Use the following steps to ensure maximum benefit from the gum.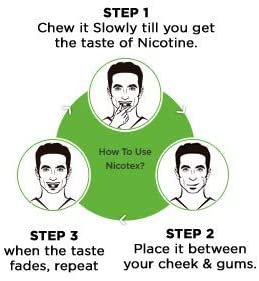 Step 1:
Chew it slowly till you get the taste of nicotine.
Step 2:
Place and rest between cheek and gums.
Step 3:
When the taste fades, repeat the step.