Bengay Ultra Strength Pain Relieve USA Cream in Bangladesh
The product of Bengay is made in USA. To buy this product in Bangladesh, you can get it from Pordeshi. Are you feeling the perfect storm of pain? And want to get strong relief! Then the Bengay pain relief cream would be a great option for you. This pain relief cream is the best back pain cream than any other cream in the context of Bangladesh. And the Bengay Ultra Cream price in Bangladesh is affordable. In the Bengay box, there are 2 tubes, a total of 4-ounce.
The specific ingredients of Bengay Ultra Strength Pain Relieving Cream may vary slightly depending on the region or formulation. However, here is a general list of common active and inactive ingredients found in Bengay Ultra Strength Pain Relieving Cream:
Active Ingredients:
Menthol (10%)

Methyl salicylate (30%)
Inactive Ingredients:
Water

Cetyl alcohol

Glycerin

Stearic acid

Glyceryl stearate

PEG-100 stearate

Tocopheryl acetate (vitamin E)

Sodium hydroxide

Dimethicone

Phenoxyethanol

Caprylyl glycol

Carbomer

Disodium EDTA

Sodium benzoate

PPG-3 benzyl ether myristate
Benefits Of Bengay Ultra Strength Pain Relieving Cream
The cream is non-greasy cream.

It is used for backaches, minor arthritis, muscle, and joint pain.

Three pain relieving ingredients: Camphor 4%, Menthol 10%, Methyl Salicylate 30%.

More ingredients are Potassium Hydroxide, SE, Lanolin, Polysorbate 80, Arbomer,  Edetate Disodium, Purified Water, Stearic Acid, Glyceryl Stearate.

Deep penetrating pain relief.

Allows concentrating treatment only on the affected area.
Directions Of Bengay Ultra Pain Relief Cream
For only adults & over than 12 years old.

Use the cream's exact affected area not more than 3 or 4 times a day.

Get the doctor's consultation for the under 12 years old child.

Store between 20º and 25ºC (68º and 77ºF).
Warnings Of Pain Relief Cream
For external use only.
Do not use
it on damaged or wounded skin.

with a heating pad.

on a child under 12 years of age with arthritis-like conditions.
Ask a doctor before use if you have redness over the affected area.
When using this product
avoid contact with eyes or mucous membranes.

do not bandage tightly.
Stop use and ask a doctor if
the condition worsens or symptoms persist for more than 7 days.

symptoms clear up and occur again within a few days.

excessive skin irritation occurs.
Keep out of reach of children to avoid accidental ingestion.
If swallowed, get medical help or contact a Poison Control Center immediately.
How to Use Bengay Ultra Strength Pain Relieving USA Cream in BD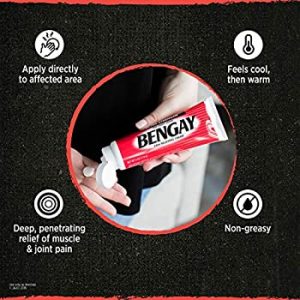 First of all, take the cream on your hands. Then massage the cream on the exact affected area. Massage the cream carefully for at least 30seconds to 60 seconds. After that wash your hands.
Temporarily relieves the minor aches and pains of muscles and joints associated with:
simple backache
arthritis
strains
bruises
sprains
FAQ
What is bengay ultra strength used for?
Bengay Ultra Strength is a topical pain relieving cream used to temporarily alleviate minor aches and pains, such as those associated with muscle strains, joint pain, arthritis, backaches, and bruises.
How does BENGAY relieve pain? 
Bengay contains active ingredients like menthol and methyl salicylate. When applied topically, these ingredients create a cooling sensation that helps distract from pain, while also providing a mild analgesic effect that may temporarily relieve pain and discomfort in muscles and joints.
Is BENGAY good for muscle pain?
Yes, Bengay is commonly used for muscle pain relief. It can help alleviate minor muscle aches, strains, and soreness.
 Can I use BENGAY everyday? 
Yes, Bengay is generally safe for daily use. This medication is for use on the skin only. Apply to the affected area no more than 3 to 4 times a day
How many hours does BENGAY last?
After applying it on the skin Leave the patch on the affected area for up to 12 hours. 
Any side effects of BENGAY cream?
No, normally it's safe to use. But if you have any allergy problem then Some potential side effects of Bengay cream include skin irritation, redness, or a burning sensation at the application site.
where can i Buy this product?
There are many websites But our is the Best. We are promised to give you the best and authentic product. Please visit our website to purchase.