himalaya Diarex 60 pcs Tablets Online in Bangladesh
Himalaya Diarex tablets are a herbal formulation used to manage your acute and chronic diarrhoea and other gastrointestinal disorders. They are manufactured by Himalaya Drug Company, a well-known company that produces a wide range of herbal healthcare products for us.Himalaya Diarex tablets provide comprehensive relief from gastrointestinal issues and a return to digestive health. Not only do these tablets heal the intestinal mucosa, but they also alleviate abdominal colic associated with bowel infection. The natural ingredients in Himalaya Diarex work quickly and effectively to restore gut health as soon as possible, so you can get back to enjoying your life without the discomfort of an upset stomach.
Diarex tablets contain a combination of natural ingredients with medicinal properties that help relieve diarrhea and associated symptoms. Some of the key ingredients found in Diarex tablets include Coneru (Kutaja), Guduchi (Tinospora cordifolia), Bilva (Aegle marmelos), and Dadima (Punica granatum). These ingredients have antimicrobial, anti inflammatory and anti diarrheal properties.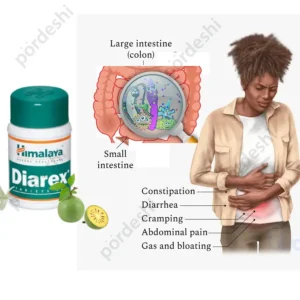 Pros:
1. Himalaya Diarex tablets restore gastrointestinal health.
2. This medicine help to heal intestinal mucosa and alleviate abdominal colic associated with bowel infection.
3. The ingredients used in the tablet are natural, making them safe to use.
4. The tablets are easy to take and do not require a prescription.
5. They have no side-effects and are easily available over the counter.
Cons:
1. Himalaya Diarex tablets may not work for all types of bowel infections or gastrointestinal problems.
2. Usage of these tablets can interfere with other medications and impact their efficacy if taken together without doctor's advice .
3. These tablets can be expensive for certain people, especially those on a fixed budget .
4. The effectiveness of these tablets may vary from person to person as every body responds differently .
5. It is important to read the instructions carefully before using
Key Ingredients
Bael
Bael is a tropical fruit tree native to India. It is also known as wood apple or stone apple. The fruit of the bael tree is round, hard, and has a rough outer shell. Inside, it contains a sweet, aromatic pulp with numerous health benefits. Bael is often used in our traditional medicine for its digestive properties and it also can help to relieve constipation, diarrhea and many other gastrointestinal issues. The fruit also have rich amount of nutrients like vitamins, minerals and antioxidants which help of making it a nutritious addition to one's diet.
Coneru
Coneru (Kutaja) is a potent astringent that is helpful in the treatment of amoebic dysentery and diarrhoea. It inhibits the growth of salmonella (the genus that causes salmonellosis) and shigella (the genus that causes dysentery).
People ask about Himalaya Diarex
What is the use of Diarex tablet Himalaya?
Himalaya Diarex Used to manage your acute and chronic diarrhoea and other gastrointestinal disorders.
Is Himalaya Diarex safe?
Yes, It is. It has no side effects. You can easily take himalaya tablets. It is so effective and safe for the human body. Millions of people all over the world are taking himalaya pills and having benefits. 
What are the side effects of the Himalaya Diarex tablet?
Himalaya Diarex tablets are generally considered safe for most people when taken as directed. They are made from natural ingredients and typically do not cause significant side effects. However, individual reactions may vary, and it's important to be aware of potential adverse effects. Some possible side effects that have been reported with the use of Diarex tablets include:
Mild gastrointestinal discomfort: In rare cases, individuals may experience mild stomach upset, bloating, or gas.
2 .Allergic reactions: Although uncommon, some individuals may be allergic to specific ingredients in the tablets, which can result in allergic reactions such as itching, rash, or swelling. If you experience any signs of an allergic reaction, discontinue use and seek medical attention.
Interactions with other medications: There is a possibility of Himalaya Diarex tablets interacting with certain medications. It is important to consult a healthcare professional or pharmacist before using Diarex tablets if you are taking other medications to avoid potential interactions.
It's worth noting that the occurrence of side effects is generally low with herbal products like Himalaya Diarex tablets. However, if you experience any persistent or severe side effects while using the product, it is recommended to discontinue use and seek medical advice.
Are Himalaya Diarex tablets effective?
It is the most effective herbal product available in the market.Himalaya Diarex tablets have been used traditionally to manage diarrhoea and gastrointestinal disorders, but their effectiveness may vary from person to person.
Which country made Himalaya products?
India made Himalaya products.
Which country has the best Ayurvedic treatment?
India is widely known as the best country for Ayurvedic treatment due to its rich heritage, extensive knowledge. They have the availability of experienced practitioners and specialised Ayurvedic centres.
Where can I purchase Himalaya Diarex tablets?
There are many online shops to purchase Himalaya products. But we provide the best quality product on our website. Please visit to buy more