Pain Killer Axe Brand Universal Oil 10ml Online in Bangladesh
Axe Brand Universal Oil is the ultimate hair and head care product. It provides quick relief from headaches, colds, dryness, itchy scalp and dandruff to name a few! Plus its all-natural formula moisturizes your locks down to their roots with essential nutrients while making them silky smooth at the same time.
Size of Axe oil in Bangladesh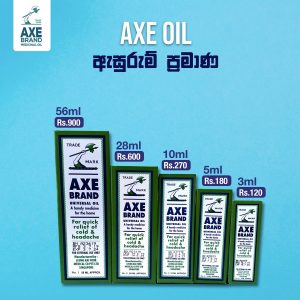 let's see more wonderful cream
ingredients of Axe Brand Universal Oil 10ml in BD
Menthol, Methyl Salicylate, Camphor.
How to use Axe Brand Universal oil in Bangladesh
Apply a few drops of the citrus-based oil to your back, chest, neck or throat and massage gently. For stuffy nose: Put 2-3 drops on tissue paper or handkerchief then inhale deeply through mouth. Repeat for relief. For flatulence/stomach discomfort: Apply to navel region with hot towel covering (repeat as necessary).
Here the axe brand oil main website you may visit