Indian Moov Pain Relief  Spray 80 ML Online in Bangladesh:
Painful experiences are unavoidable and can happen during everyday tasks such as lifting heavy objects or staying in a certain position for too long. Don't ignore the pain, instead, try MOOV's trusted Pain Relieved Spray which is easy to carry around with you at all times – apply it whenever discomfort strikes!

How to use Moov Pain Relief Spray
Please shake it well before each use. When you shake it, all the ingredients are mixed together so that they can work their magic.
Mist the affected area at a 5 cm distance from the bottle. Mist your dry skin in areas of eczema and psoriasis to help soothe it. To do this, simply spray one or two pumps onto an impacted region at arm's length for five seconds.
For best results, make sure to take your medication three or four times a day.
ingredients of India Moov Pain Relief Spray 35 ML:
Wintergreen Oil
Mint Extract
Cinnamon Oil
Turpentine Oil
Eucalyptus Oil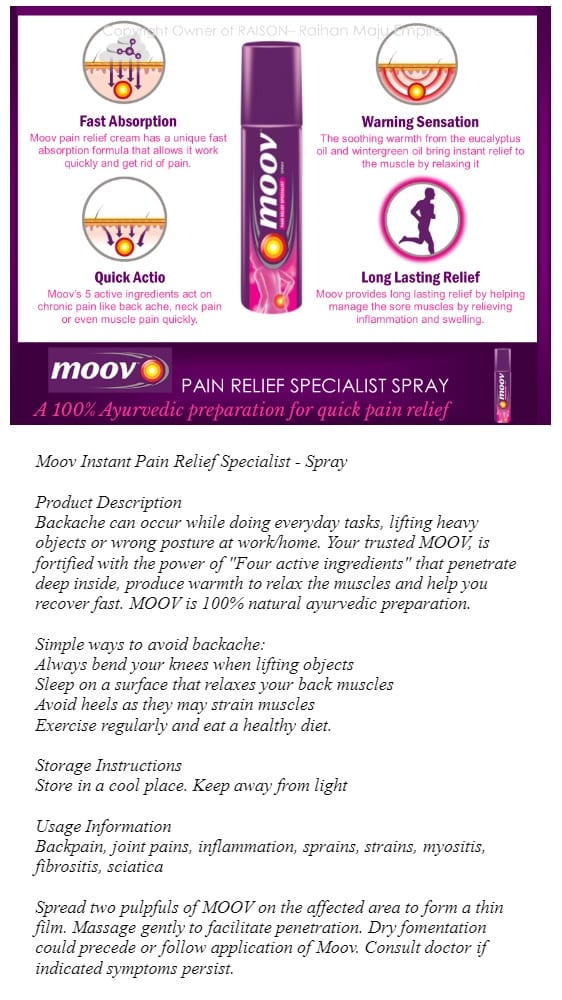 Here the indian moove pain relif main web site you may visit