Best Buy Pain Killer Axe Oil 28ml Online in Bangladesh
For nearly a century, Axe Brand Universal Oil has been trusted by people around the globe to soothe pain and discomfort. Its gentle formula can help you feel better fast – just ask any of its devoted users!
For more than 80 years, we've grown accustomed to turning towards Axe Brand for relief from ailments like giddiness, headaches, blocked noses or colds – but that's not all this miracle oil is good for. It also helps with stomach aches and insect bites as well as rheumatic pains and muscular pains too!
Size of Axe oil in Bangladesh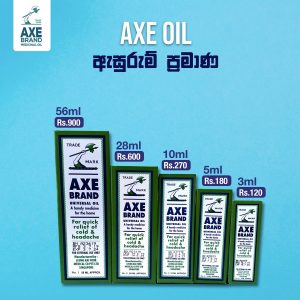 Let see more wonderful cream
How to use Axe Oil 28ml in BD
"The first time I put a few drops of this oil on my stomach, it felt like the relief that was coming from it would never end. It's been over six months now and I feel better than ever! If you're feeling bloated or just need to relax for some reason, all you have to do is apply 2-3 drops onto your handkerchief or tissue paper then inhale deeply."
The side effect of Axe oil in Bangladesh
Axe leaves you with a rash. Axe vomits up your insides and makes them come back out the way they went in, sometimes twice. When it comes to allergic reactions – the axe is not for those who are easily offended by itchiness or rashes that don't go away when scratched off like most other products cause- as these side effects may also lead to vomiting and nausea respectively! The injection site reaction can be just as bad if left untreated: people might start experiencing diarrhoea from this one too!
Side Effects of Axe include Rash, Vomiting, Allergic Reaction (to any given ingredient), Increased Liver Enzymes levels*, Nausea*, Injection Site Reactions*(depending on where applied) Diarrhea*.
Ingredients Axe oil
Menthol, Camphor, Methyl Salicylate
Here is the axe brand oil main website you may visit