Durex Play Cheeky Cherry gel 50ml in Bangladesh
Durex Play Cheeky Cherry Lubricant Gel is a completely safe lubricant gel for smooth and comfortable love-making with your partner. Rich in aroma and cherry flavor, it is suitable for oral, vaginal and anal sex and even sugar-free so you can indulge without any kind of guilt feeling.
The lubricant can be used to ease vaginal dryness and help to create an intimate comfort and make things more exciting. Being water-soluble, they do not stain and are easy to wash. You can also get involved in Durex's play vibration rings to make love more exciting!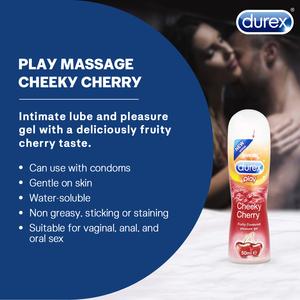 How to Use Durex Play Lubricant Gel in Bangladesh
Take off the cap of the gel and take a squeeze lightly smooth over your intimate area and all over your body. Cheeky Cherry Lubricant Gel is suitable for vaginal, anal, and oral sex. You can use Cheeky Cherry Lubricant Gel with all Durex condoms and toys. Please note that it is not a contraceptive and does not contain semen.
Product Information: Durex Cheeky Cherry lube
Brand: Durex
Flavor: Cherry
Net Quantity: 50 ml
Item Weight: 78 g
Safety: 100% safe
Type: Durex Condom friendly lubricant water based gel
Tested against breakage: Sure, clinically tested.
FAQs
Q: Why should you use Durex lubricants gel?
A: Lubes can be used to enhance sensations, add a bit of fun, pizzazz to your sexual concurrence. Cherry flavored gels are also perfect for usage with stimulators in case you are planning to make things substantially more fascinating way.
It is specially designed for to you enjoy. Durex play lubricants gel is also water-based. So it is creat more comfortable to sex with your partner and also it gives the more comfort and best experience for each other.
Q: Can lubricant gel be used on the body?
A: yes, all Durex play gels are suitable for all bodies and also are edible. So no problem you can use it all over the body.
Q: How can you use this gel?
A: Top of cup open this push the tube and take some lube gel to your hand and apply into the skin or condom.
Awareness of this Durex Cherry Gel
Please use this three months of opening.
Please put it in the cool and dry area. 
Keep out far from direct daylight.
Keep out far from a child.
Durex is the most reliable brand.