Indian Himalaya Bresol Tablet pcs in Bangladesh
Himalaya Bresol Tablet is a unique blend of natural ingredients that can help to relieve your respiratory disorders. The antihistaminic property helps with the symptoms associated with allergic conditions, while its mucolytic and bronchodilators properties are helpful for liquefying nasal congestion or reducing airway resistance so you don't feel as much discomfort when breathing in. Lastly, Himalaya's antimicrobial action fights against infections caused by bacteria!
Benefits of Himalaya Bresol medicine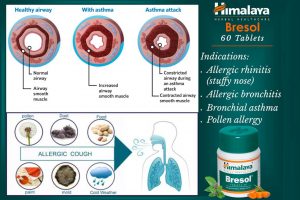 Tulsi is a natural tobacco plant that can help to reduce allergy symptoms. By including it in your diet you may be able to alleviate the discomfort of allergies caused by pollen or other irritants, thanks largely due Tulsi's antihistamine properties which act as an all-natural remedy for respiratory distress. Tulsi contains potent antihistamines with therapeutic value against asthma and related conditions such as bronchospasms triggered by allergens like dust mites, pet hair dander and pollens from plants such as ragweed or goldenrod (among others).
Holy Basil has been shown to have antioxidant properties. This is due, in part, to its ability to inhibit nitric oxide production and circulation through the body.
One of the ingredients in turmeric, curcumin has been found to block NF-κB. This protein complex is linked with allergies and asthma so it's not surprising that studies indicate a reduction in symptoms when patients take this supplement regularly! Turmeric contains curcumin which blocks an important pathway for inflammation called NF-kappa B. It also helps reduce allergy and asthma-related symptom severity because of its link to these diseases.
Ingredients of Bresol Tablet
Holy Basil, also known as "Ram Tulsi" in Indian households, has been used for centuries to prevent symptoms of asthma and other respiratory diseases. The plant is said to have anti-microbial properties that can be beneficial if you're trying to get over a cold or the flu.
Vasaka is known to improve the secretion of phlegm in the respiratory tract. This assists with congestion and can also help loosen mucus, making it easier for a person's body to expel excess matter that has been lingering in their lungs or chest cavity.
Vasaka helps clear airways by bringing up phlegm from our throat which liquifies any accompanying substances like bacteria or fungi so they are more easily removed, relieving us from feeling congested and hacking all day long!
Turmeric is an amazing agent that can control the secretion of histamine, which helps to prevent allergic responses. It also serves as wonderful prevention for those who suffer from immediate hypersensitivity.
You may want know
What is the Himalaya Bresol Tablet used for? 
Himalaya Bresol Tablet is used to alleviate our respiratory tract infections and allergies which is providing relief from symptoms like nasal congestion, sneezing and throat irritation.
What is a Bresol tablet?
To Take a Himalaya Bresol Tablet you can discuss it with a doctor first. Usually, the recommended dosage is one or two tablets twice daily after meals, with water.
Are there any side effects of using Himalaya Bresol Tablet?
Himalaya Bresol Tablet is generally well-tolerated when taken as prescribed. However some users might find mild gastrointestinal discomfort or allergic reactions may occur. It is important to stop using and seek medical attention if anything happens like that.
Can I use Himalaya Bresol Tablets for allergies?
Yes, Himalaya Bresol Tablet can be used to provide relief from allergy symptoms like nasal congestion and sneezing.
Is the Himalaya Bresol Tablet safe for children?
It is essential to discuss with a paediatrician before giving Himalaya Bresol Tablets to children. As the dosage and safety may vary based on their age and health condition.
Can Himalaya Bresol Tablets be used during pregnancy or breastfeeding?
Pregnant or breastfeeding women should discuss with their healthcare provider before using Himalaya Bresol Tablet, as certain ingredients may not be suitable during this period.
How long does it take for Himalaya Bresol Tablet to show results?
The time for the Himalaya Bresol Tablet to show results may vary, but some individuals may experience relief within a few days of consistent use.
Where can I buy Himalaya Bresol Tablets?
In our website you will find the best and authentic products of Himalaya. We give you the assurance that your product will be 100% safe and secure.
Summery the Himalaya Bresol Tablet in BD
Himalaya Bresol Tablet in Bangladesh is a mixture of powerful natural ingredients that can help with your respiratory disorders. The antihistaminic property helps you to deal with symptoms caused by allergies, while its mucolytic and bronchodilator properties will make it easier for you to breathe without getting too much discomfort down the line. Himalaya's antimicrobial action also fights against infections caused by bacteria!
visit here Himalaya official site in India