Axe Brand Universal Oil 5ml Online in Bangladesh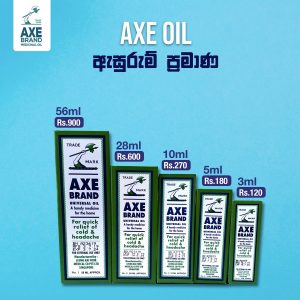 For over 90 years, people all over the world have relied on Axe Brand Universal Oil and its exclusive blend. It has a beautiful color and a lovely scent. It's gentle but effective in treating vertigo, headache, sinusitis, the common cold, upset stomach, itchy bug bites, rheumatic pain, and muscular pain.
Let's see more wonderful cream
More about Axe Brand Universal Oil 5ml
Axe Brand Universal Oil, manufactured from a unique mixture, has been used all over the world for over 80 years, making it a convenient medicine for the house. It smells good and has a pristine appearance. Uses:Provides temporary relief of headaches, colds and blocked noses, muscular and joint pains, stomach discomfort and wind, giddiness or travel sickness, and soothing itching from insect bites.Active ingredients:Menthol crystals, eucalyptus oil, methyl salicylate, essential oil, camphor.Directions:Apply a few drops to the affected area as needed. Hot towels should be reapplied as needed.Warnings:For external use only. Caution should be exercised if the child is younger than 2 years of age.
How to Use:
Massage a few drops into the afflicted region.
Two or three drops on a tissue or handkerchief can help clear a stuffy nose.
Apply the oil directly to the navel area and wrap in a warm cloth for instant relief from flatulence and stomach pain.
In the event that you feel the need for further application of the hot towel, do so.