USA Bengay Ultra Pain Relieving Cream in Bangladesh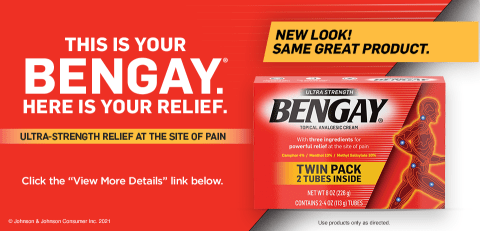 Bengay ultra cream price in Bangladesh
If you're feeling achy and in pain, try Bengay ultra cream Topical Pain Relief. The non-greasy cream penetrates deeply to soothe backaches, minor arthritis, muscle, and joint pain. A 4-ounce tube is portable and contains more pain-relieving ingredients than any other Bengay product—camphor, menthol, and methyl salicylate for powerful relief on the go. It's OTC with physician recommendation; it can be used anywhere anytime. With a friendly tone of voice and baby feel that'll make you want to try it right away!
Bengay is an effective pain relief cream that can provide you with up to 12 hours of pain relief. It's a great way for patients suffering from back, joint, and muscle pain as well as arthritis to find some temporary relief. You don't need a prescription or even the help of your doctor to use it so there's no need to feel embarrassed about asking for assistance.
How to use Bengay ultra cream in Bangladesh?
Bengay pain relief cream is gentle on the skin but tough on inflammation to reduce stiffness and soreness. It is our promise to leave you feeling better, fast with only one application. Give it a try! Your body will thank you.
Definitely, Bengay Ultra Pain Relieving Cream starts working fast. It will get you immediate relief from backaches, joint and muscle pain.
Bengay Ultra Pain Relieving Cream is preferred by athletes and active people because it starts working fast, with clinically proven 20% more strength. Apply a thin layer directly to the affected area up to 3 times daily or as needed. You'll start feeling relief in 5 minutes! Take the power of Bengay with you anywhere for anytime relief!
Stay safe with the Safety Information of Bengay ultra cream
It should not be used sparingly but only externally; if someone has an open wound or damaged skin they should not touch this product to that area; when using this product it's important to prevent contact with eyes or mucous membranes too and of course keep it away from children. Avoid using on a child under 12 years of age with an arthritis-like condition. As soon as possible get medical help if swallowed. You should also avoid using it if you have an allergy or sensitivity to menthol or camphor extracts that are found in other Bengay products.
Bengay Ultra Pain Relieving Cream price in Bangladesh
Bengay ultra cream is a popular choice because it's effective for a variety of back injuries. The average Bengay Ultra Cream price in Bangladesh ranges between about tk.1100-1500 per tube depending on government vat and tax. It is a 100% authentic product of the USA. You can get it in Bangladesh on our website at a reasonable price.
Pordeshi focuses on customers' faith by selling 100% authentic products. If you doubt any product's authenticity you can change or return without any hesitation. You can communicate with us on Facebook